About Us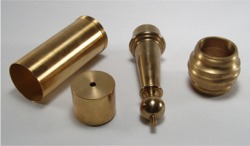 West Warwick Screw Products Co Inc. is a third generation family owned and operated automatic screw machine and precision turning contract job shop. In 1945, Edward A Materne co-founded West Warwick Screw Products with William J. Ayles. During their successful partnership lasting over 30 years, the company established itself as a versatile job shop ready and able to take on and complete complicated projects. In 1971, Douglas W. Materne came on board, working alongside the two founding partners for several years. With the retirement of William in 1978 and the death of his father in 1980 Douglas began managing the company.
Douglas has a BS in mechanical engineering from the University of Pennsylvania as well as an MBA from the University of Rhode Island.
Doug's oldest son Steven D. Materne joined the company in 1988 as the production engineer and chief technician. Steven was a graduate of Roger Williams University with a degree in Business Management.
Steven purchased West Warwick Screw in 2010 with the retirement of his father Douglas and has been striving to continue the success of the family business and propel it to new heights.
West Warwick Screw and president Steven D. Materne are proud to be one of the founders of the makeRI initiative, which is to educate the community in the importance of manufacturing for all of us.